UNION INTERNATIONALE POUR LA SCIENCE, LA TECHNIQUE ET LES APPLICATIONS DU VIDE

INTERNATIONAL UNION FOR VACUUM SCIENCE, TECHNIQUE AND APPLICATIONS
INTERNATIONAL UNION FÜR VAKUUM FORSCHUNG, TECHNIK UND ANWENDUNG
Mailing Address:

84 Oldfield Drive, Vicars Cross, Chester CH3 5LW, United Kingdom
Phone: 44 1925 603268 ; 44 1244 342675; Fax: 44 70059 63675
(Scientific Association - Registered Office - Avenue de la Renaissance 30, B-1000 Brussels, Belgium
A member Scientific Associate of the International Council of Scientific Unions (ICSU)
President: Prof. Dr. Ugo Valbusa (Italy), Secretary General: Dr. Ron J. Reid (Great Britain), Treasurer: Dr. John Grant (USA)
Edited by Robert Redhammer


Slovak University of Technology, Bratislava - Slovak Republic
Associate Editor : Prof. Ugo

Valbusa, Alain-Andre Roche

No. 156, July - December 2004
This is the first IUVSTA News Bulletin of the triennium 2004-2007.
This is the first message from IUVSTA President, Ugo Valbusa.
IUVSTA Activities
Click here to obtain an overview of the activities of IUVSTA during July 2004 to January 2005.
The main activities like ECM-95, IVC-16, STD Triennial Initiative on Technology Transfer, GM-15 or ECM-96 are listed.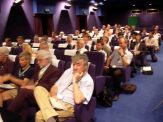 IUVSTA General Meeting 15 has been held at Cinema Festival Palace, Venice, Italy on Wednesday, 30 June 2004. The General Meeting is the highest authority in the Union and it is being to held every three years. After the presentation of her Retiring President's Review, Dr. M.-G. Barthés-Labrousse formally transferred the Presidency of the Union to Prof. Ugo Valbusa.
Officers for new triennium have been elected. President elect: Dr. J. W. Rogers. Secretary General: Dr. R. J. Reid, Treasurer: Prof. J. Grant, Scientific Director : Prof. M. C. Asensio and Scientific Secretary: Prof. H. J. Gao. Congratulation! President Ugo Valbusa gave an Inaugural statement.
IUVSTA Awards and Prizes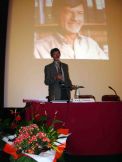 The 2005 scholarship winner in Fredrik Eriksson form Sweden, who will study "Multilayer X-ray optics with application to astronomy, solar physics and related disciplines" at the Columbia Astrophysics Laboratory in New York under Dr. Windt.
The 2004 IUVSTA Technology Prize went to Dr. Martin P. Seah, Center for Optical and Analytical Metrology, National Physical Laboratory, Teddington, Middlesex, UK "for his contribution to the science, technology and application of surface chemical analysis."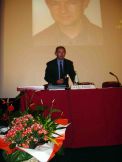 The 2004 IUVSTA Science Prize went to Prof. Joost W. M. Frenken, Kamerlingh Onnes Laboratory, Leiden Institute of Physics, Leiden University, The Netherlands, "for his pioneering work in the development and application of scanning probe microscopy to study various dynamical processes at surfaces."
New IUVSTA Divisions and C
ommittee
Chairs:
New Division and Committee Chairs for the triennium 2004-2007 are listed on the web.
The 9th European Vacuum Conference EVC-9, Paris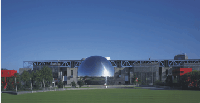 The 9th European Vacuum Conference EVC-9, 5-7 April 2005, Paris, France, will be held in conjunction with Vide 2005, the Vacuum Exhibition which is annually organized by the Manufacturer Committee of the French Vacuum Society (SFV), and with the celebration of the 60th anniversary of the SFV. A deadline for Abstract Submission is 10 February 2005.
A short course program will be organized prior to the conference on Monday, April 4, 2005.
International Vacuum Congress IVC-17/ICSS-13
This 17th International Vacuum Congress IVC-17 and 13th International Conference on Solid State Surfaces ICSS-13 will be held in Stockholm, Sweden, 2-6 July, 2007. The local host is the Swedish Vacuum Society, which will work closely with the Finnish Vacuum Society to ensure the maximum exposure in the Baltic area. www.congrex.com/acsin8
International Vacuum Congress IVC-18
The IVC-18 will be held in Beijing, China in August, 2010. The local host is the Chinese Vacuum Society.
IUVSTA Scientific Workshops & Summer Schools
These high level scientific Workshops are being organized by our Scientific Divisions on specially selected topics. Click above to view the list of scientific Workshops currently being offered by the Divisions. Will you participate?
IUVSTA Events Schedule
Click here to see the list of forthcoming conferences, meetings and workshops which are being organized, co-organized or endorsed by IUVSTA. Links to related society events are also given.
Donation
IUVSTA has received on 23.12.2004 the donation from IVC-16 Venice on the account in Geneva. Many thanks to the Italian Vacuum Society for the prompt payment.
We encourage for donation to complete the donation plan for the IUVSTA prize in Technology. It seems that we need at least 5 donations of 5000 CHF to complete the second prize. This information is useful when approaching company representatives about possible donations.
- Obituary
We are sad to inform that Prof. Eero Ristolainen, councilor of Finland, died suddenly on 3 January 2005.
Forthcoming ECM's
Details of forthcoming Executive Council Meetings can be obtained by clicking here. When available, these details include the agenda, schedule of committee meetings, travel advice and accommodation arrangements.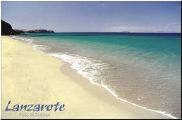 The next Executive Council Meeting ECM-97 will be host by the Spanish Vacuum Society. It will be held in Hotel BEATRIZ, Playa Teguise, Lanzarote, Canarian Islands, Spain, 18-20 February 2005.
Satellite meeting on Opportunities in Material Science: from Nano Objects to Complex Materials will be held in Madrid, Spain, 16-17 February 2005. The venue is Consejo Superior de Investigaciones Científicas, CSIC, Serrano 113.
ECM-98 will be hosted by Austrian Vacuum Society and will be held in Vienna, 30 September - 02 October 2005 directly after ECASIA. The venue is the village of GUMPOLDSKIRCHEN, located approx. 20 km from Vienna. This can easily be reached from Vienna by local train or car (approx. 30 min travel time). The meeting location will be a Seminar center at the "Deutschordensstift Gumpoldskirchen", an old abbey transformed to serve as a Seminar-Center. The ECASIA-05 will take place from 25 - 30 September 2005 at the Vienna University of Technology.
The ECM 99 and ECM-100 are still open for invitation by national vacuum societies.
Closing Comments
We welcome further ideas on what you would like to see in your Bulletin or how you would like to see it. You can contact the Editor, by e-mail at robert.redhammer @stuba.sk.
Published on 4 February 2005.